62 Chicago Software Companies You Should Know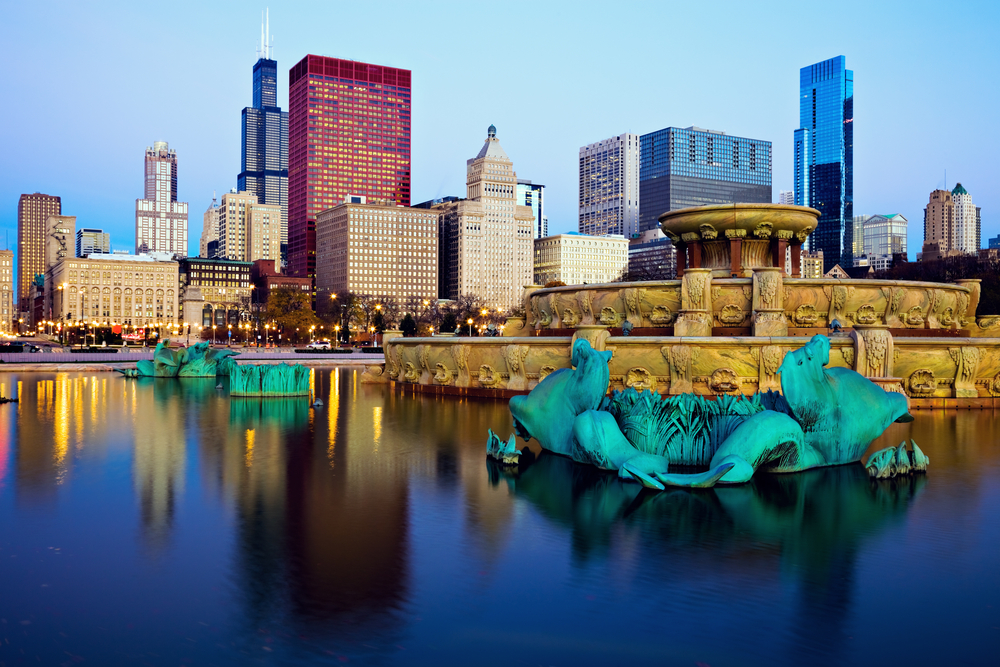 It's no secret that our daily lives are powered by software. From the alarm apps that wake us each morning to the Netflix shows we fall asleep to at night, we live life on a platform. To keep up, tech companies and startups are building software services all over the world and Chicago is an important player.
Top Chicago Software Companies
Lever
Sprout Social
Machinio
Pricefx
Duck Creek Technologies
Bento for Business
Bringg
CCC Information Services
Civis Analytics
Paylocity
Project44
ServiceNow
Tock
Upwork
Check out our entire list of 62 software companies in Chicago you should keep in mind.
What they do: Qualtrics builds software products designed to give businesses the capabilities to provide quality customer service, effectively engage their employees and build their own products. Brands from industries such as education, travel and hospitality, healthcare, retail and media use Qualtrics' solutions.
How they're changing software: The company says its team members aim "to help customers build the world's best experience management programs." Qualtrics has worked with more than 18,000 brands worldwide, including major names like BMW, Under Armour, Samsung, Sony, UPS and Mastercard.
Founded: 2002
What they do: Headquartered in Chicago since its founding in 2014, Locusview is a construction management consulting firm that serves infrastructure companies like energy and telecom utilities providers. 
How they're changing software: The Locusview digital construction management platform is designed to run and scale jobs that involve intricate contractor sequencing from start to finish while collecting construction data and tracking project status. 
Founded: 2014
What they do: Leveraging some of the most advanced products in the industry, Belvedere Trading remains one step ahead of the market. A belief in incremental progress drives Belvedere Trading, which provides various market liquidity options with its proprietary technology. 
How they're changing software: Belvedere Trading embraces an agile approach to technology, showcasing a flexible software system that enables the firm to adapt to sudden market shifts and excel in risk management and creative trading solutions. 
Founded: 2002 
What they do: Bento for Business offers a credit card-like payment solution for small to mid-sized business looking to efficiently scale.
How they're changing software: The prepaid card makes it easy for businesses to cap spending limits and keep track of purchases in real-time. Instead of relying on cash and after-the-fact expense reporting, Bento for Business gives users the ability to efficiently maintain correct finances using real-time data.
Founded: 2013
What they do: BigTime Software develops integrated billing and time tools for organizations to track and manage their time.
How they're changing software: The BigTime Software platform tracks over $2 billion annually with features like time tracking, invoicing and a reporting analytics dashboard. The company's time tracking and expense reporting software is used by global companies like Intuit and the Huffington Post.
Founded: 2002
What they do: Bringg is an end-to-end software-based logistics platform serving the needs of the retail, grocery, retail, logistics and healthcare industries.
How they're changing software: Bringg's software platform focuses on creating a seamless logistics experience. It includes tools that help manage multiple fleets and inventories, and it even alerts drivers to urgent next or same-day deliveries. Coca-Cola, Walmart, AutoZone and Panera all use Bringg's platform to streamline their logistics processes.
Founded: 2013
What they do: Carminati Consulting is an IT consulting firm that crafts custom software application tools.
How they're changing software: Carminati implements their IT solutions throughout the healthcare, government and private sectors. Their "Immuware" software helps healthcare organizations achieve compliance faster, while their "Insurance on Demand" tools tracks insurance contracts and provides employees with access to their current coverage details.
Founded: 2010
What they do: Caterpillar is the digital and technology wing of Caterpillar, one of the largest construction and farming companies in the world. Caterpillar is tasked with implementing emerging technologies into equipment to help tackle the toughest challenges out there.
How they're changing software: Caterpillar is inserting emerging technologies, like AI, IoT and data science, into some of the most well-known pieces of manufacturing equipment in the world to help farmers gather more crops and construction teams build quicker and safer.
Founded: 1925
What they do: CCC improves the claims management process for companies in the automotive industry. Auto manufacturers, insurance carriers, part suppliers and collision repairers use CCC's solutions to make better decisions, improve industry collaboration and effectively engage with customers.
How they're changing software: From cloud and mobile to telematics and apps, CCC is constantly working on new, innovative solutions that get people back on the road quickly after an accident.
Founded: 1980
What they do: Civis Analytics helps businesses implement big data software to form actionable strategies.
How they're changing software: Civis' software platform offers a suite of tools to help businesses manage billions of data points. The company's platform includes predictive modeling and media optimization that have helped global companies, like Airbnb and Verizon, harness the power of their data.
Founded: 2013
What they do: Paylocity provides payroll services and human resource software to businesses across the country.
How they're changing software: Paylocity's comprehensive software solutions make it easier for companies to manage their workforce. Their suite includes payroll, talent management and mobile software to manage holistically and effectively from anywhere.
Founded: 1997
What they do: Club Automation produces software for health, fitness and wellness clubs that is designed to automate and make processes more efficient. The company has a variety of different products, like text messaging platforms, billing systems and performance analytics dashboards, that help to give clubs a greater control over their time and resources.
How they're changing software: Club Automation's software tools are being used by hundreds of health and wellness clubs all over the world.
Founded: 2008
What they do: To ensure clients get the most out of their equipment, CMMS Data Group provides top-notch products and professionals. Technology and training go hand in hand as companies gain greater insights into their inventories.
How they're changing software: CMMS Data Group has crafted the ideal solution in the form of MVP Plant for companies looking to better care for their resources. The software monitors equipment and helps companies take preventative measures to maintain the health of their components. In addition, engineering experts offer training on the software and contribute to a seamless transition for clients.
Founded: 2000
What they do: Devbridge is a software design and development company partnering with B2B clients on Agile development. The company works closely with each client on custom software design, legacy modernization, workflow automation and data strategy projects in order to get the most out of every company's tech stack.
How they're changing software: Devbridge has worked closely with world-renown institutions and businesses, like the Art Institute of Chicago, Bank of America and Ernst & Young.
Founded: 2008
What they do: DScout provides video research software that helps businesses gather, manage and share in-context moments sourced by people all over the world. "Scouts" are ready to record short videos on why they watched a certain show or which streaming service they like better in order for businesses to improve their outreach to customers.
How they're changing software: DScout's interactive software allows for businesses to receive customer feedback about a certain product in real-time. Nike, Lyft and REI all use dScout to crowdsource customer opinions in order to improve their products.  
Founded: 2011
What they do: Duck Creek Technologies supports the insurance industry with fintech and cloud-computing technologies that help improve customer outcomes and better optimize their day-to-day business operations.
How it's changing software: Duck Creek Technologies empowers insurance companies to deliver impactful, legible data to their customers with a low-code platform that can be integrated into any pre-existing system, speeding up the pace of claims processing and adjusting rates.
Founded: 2000
What they do: Evive's employee benefit platform houses all benefits in one, easy-to-understand platform.
How they're changing software: Evive uses predictive analytics software to anticipate when an employee is going to use their benefits or if an employee needs a little nudge to take some time off. Each benefits portal is customized based on the employee's needs.
Founded: 2007
What they do: Fastmodel is a sports technology company providing playbook and diagramming software. The platform enables coaches to access new plays, draw their own and share across multiple devices and channels.
How they're changing software: Their FastDraw basketball tool is changing the way coaches communicate with players and is used by all major professional teams and 85 percent of D1 college teams.
Founded: 2004
What they do: FourKites provides logistics solutions for end-to-end freight tracking. The platform includes tracking for roads and rails with overseas capabilities in development. Its solutions serve the entire supply chain including, shippers, brokers, carriers and third-party logistic providers.
How they're changing software: Many industries rely on FourKites for transparent, real-time tracking of their goods from food and beverage companies to oil and gas enterprises.
Founded: 2014
What they do: Advyzon develops and implements technology designed for financial advisors. The company's platform unifies data from portfolios, billing, documents, and more into a single location, enabling advisory firms to instantly access crucial data and better serve the needs of their clients. 
How they're changing software: Advyzon's portfolio management system integrates well with numerous other platforms and tools, so companies can safely migrate historical data and access new data across systems and devices.
Founded: 2012    
What they do: Front connects team members with a communications hub designed for collaboration. Employees can now leave comments and draft responses together, allowing companies to provide enjoyable interactions for each customer. 
How they're changing software: The technology of Front allows multiple members to work on the same messages and allocate workloads to the ideal personnel. By equipping teams with the tools to stay organized, businesses can resolve issues faster and keep customers happy.
Founded: 2013 
What they do: Hireology is an industry-focused recruiting and talent management platform for automotive, fitness, healthcare and professional services. The platform performs a variety of management needs from applicant sourcing to payroll and HR.
How they're changing software: Hireology helps lots of companies like Anytime Fitness, Title Boxing, Sylvan Learning and KIA build their teams, onboard new hires and provide data insights throughout the whole process.
Founded: 2010
What they do: Hologram is a platform for building IoT products on a cellular network. Hologram's hardware-agnostic SIM cards automatically switch networks and, and scale with your product, so IoT deployments are seamless and efficient.
How they're changing software: Hologram's software and IoT products have been used by thousands of companies in the healthcare, manufacturing, micromobility and logistics industries. 
Founded: 2013
What they do: When a business is just going through the motions, Inspire11 steps in to help. The company blends cutting-edge thinking with intelligent technology to help teams streamline their operations. As a result, businesses can provide higher-quality experiences for customers with Inspire11's comprehensive solutions. 
How they're changing software: Data analytics, cloud architectures, and machine learning tools come together as part of Inspire11's strategy. By embracing a multi-faceted approach, Inspire11 is enabling companies to operate at a breakneck pace with the latest tools. 
Founded: 2016 
What they do: Jellyvision creates solutions for enhancing employee communication and program participation. The company's leading product, ALEX, guides employees through important but complex decisions like benefits, 401(K), financial wellness and leave of absence.
How they're changing software: Jellyvision saves time and money for HR teams while providing them with the tools to help their employees make the best choices. Companies like Adobe, Comcast and American Eagle Outfitters have used Jellyvision products for increased program enrollment, communication and cost savings.  
Founded: 2001
What they do: Lever operates an end-to-end talent acquisition platform that unites the full talent lifecycle seamlessly, providing users with an experience that combines CRM and ATS capabilities. 
How they're changing software: The company's platform features innovative tools for the sourcing, interviewing, hiring, rediscovery and results analyzing processing, with custom dashboards available for visualizing data, running diversity surveys, gathering referrals, connecting to the LinkedIn Recruiter RSC and more.
Founded: 2012
What they do: Litera Microsystems provides document organization solutions for life sciences and the legal industry.
How they're changing software: Litera's platform improves production efficiency, formatting and content quality for documents, enabling clients to instill best practices and reduce document error and risk.
Founded: 1995
What they do: Logiwa is helping organizations adapt to the digitization of commerce with a suite of cloud solutions. Since companies have established various warehouses to meet local demands, Logiwa provides the tools for teams to track inventory across these locations and provide high-quality customer experiences. 
How they're changing software: To ensure companies can meet high-volume and next-day orders, Logiwa has crafted a cloud platform that centralizes inventory information. Businesses can manage their inventory, make quick sales transactions, and determine effective shipping methods for each order. 
Founded: 2017
What they do: Machinio is an online marketplace for the construction industry, allowing organizations and contractors to buy, sell and bid-on various types of heavy equipment and machinery.
How it's changing software: The company works directly with dealers, retailers, auctioneers and equipment owners to offer fast access to available machinery as soon as it becomes available, with listings updated on a daily basis.
Founded: 2013
What they do: Milyli (Make it like you like it) builds e-discovery solutions on the legal tech platform, Relativity. Milyli's products customize Relativity's software for companies to seamlessly integrate applications, optimize workflows, lower costs and increase overall efficiency.  
How they're changing software: The Milyli team has more than 100,000 hours of customization experience on the Relativity platform, building features like change reporting, project management tools and text-searchable PDFs.  
Founded: 2008
What they do: Origami Risk offers cloud-based solutions catered to the risk and insurance industry. Their platform includes claims, safety, underwriting, analytics and data tools for integrating workflows and collecting data.
How they're changing software: Origami automates practically any process when it comes to assessing risk, underwriting policies, handling claims or collecting exposure values.
Founded: 2009
What they do: Paro matches businesses with fully-vetted freelance finance professionals.
How they're changing software: Paro pairs financial companies with engineers, accountants financial analysts and contract CFO's who are familiar with a variety of financial software platforms, and can perform tasks from budget forecasting to pitch deck design.
Founded: 2015
What they do: PriceFX produces cloud-based price management software that allows B2B and B2B companies to increase their margins and win deals quickly.
How it's changing software:  The company's CPQ software is fast to implement and optimized to pull insights from across the business, with powerful AI technology built in to streamline price settings and maximize value.
Founded: 2011
What they do: Project44 provides logistics solutions, digitizing shipment lifecycles and making an overall smarter process for manufacturers, carriers and retailers. Named for Highway 44, the first bypass of Route 66 and a solution to an obsolete highway system, Project44 offers its own transportation solutions in the form of web-service APIs and predictive analytics.
How they're changing software: Project44 provides real-time information, enabling complete visibility during the entire supply chain.
Founded: 2014
What they do: Relativity makes legal software solutions to manage data and pinpoint issues during compliance projects, litigations, and internal investigations. Their platform can be used in both the office and the cloud, and enables users to build and integrate their own applications, manipulating its functionality to their specific needs.
How they're changing software: Relativity is widely used, currently serving over 13,000 law firms, corporations and government agencies like EA, Tesla, Allstate and LinkedIn.
Founded: 2001
What they do: Screencastify is a Chrome browser extension that allows for screen and webcam video recording.
How they're changing software: Screencastify offers the user the ability to share their webcam, desktop or browser tab with others. The software even allows for users who are presenting their screens with tools to draw on the screen or annotate important points.
Founded: 2013
What they do: ServiceNow makes applications that predict, automate and digitize tasks across customer service, cybersecurity, human resources and IT platforms.
How they're changing software: The company automates routine tasks and makes sure complex projects run smoothly with their suite of solutions. Adidas and Experian are just a few of the top companies using ServiceNow's technology to better their businesses.
Founded: 2004
What they do: Showpad is a marketing and sales platform delivering a better buyer experience through content management, analytics and sales engagement.
How they're changing software: Showpad is used by over one thousand brands like Audi, Johnson and Johnson, Bridgestone and Royal Caribbean to save money, increase efficiency and produce the best buyer experiences.
Founded: 2011
What they do: SilkRoad is a leading HR solution for recruiting, onboarding and retaining talent. Their cloud-based product extends beyond paper forms and makes the experience more personal, acclimating new hires to a company's culture and sticking with them well beyond their first 30 days.
How they're changing software: SilkRoad is tackling the retention problem many companies face. Their platform ensures involvement doesn't stop at the onboarding process; their product engages employees continuously throughout their time with a company.
Founded: 2003
What they do: Spark Hire makes the interviewing process simpler with their video interviewing platform.
How they're changing software: Job candidates record themselves answering predetermined questions and Spark Hire's software allows for recruiters to view their answers to find the highest quality candidates. International companies like Ikea and Volkswagen use Spark Hire to interview higher quality job candidates with ease.
Founded: 2010
What they do: Sprout Social provides businesses with a powerful social media management platform that allows enterprises, agencies and small businesses alike to utilize intuitive social tools to create lasting value across their entire organization.
How they're changing software: The multi-channel Sprout Social platform goes beyond simply publishing capabilities by including listening, engagement and analytics tools so organizations can get a clearer understanding of how their audiences interact with them, providing new opportunities for turning leads into customers.
Founded: 2010
What they do: Thoughtworks helps companies solve complex problems through software solutions that combine strategy and execution in order to strengthen their core technologies.
How they're changing software: The company collaborates with clients to add flexibility and scalability to existing software, enabling companies to take adaptive mindsets when reaching business goals.
Founded: 1993
What they do: Tock is a management platform for restaurants, wineries and pop-ups.
How they're changing software: The Tock platform manages everything from booking reservations and maintaining waitlists to tools like two-way texting with customers and note-taking on guests. The company's platform is being used to book reservations, tours and excursions in more than 23 countries worldwide.
Founded: 2014
What they do: Upwork is the world's largest freelancing website. Businesses looking to add freelance computer engineer, developer, designer and administrative roles look to Upwork for fulfilling short-term positions.
How they're changing software: Upwork connects companies looking for software engineers and developers with fully-vetted freelancers looking to take on short-term projects and contract work. Over five million businesses have hired an Upwork freelancer, including Dropbox, Accenture and Airbnb.  
Founded: 1999
What they do: Vail Systems is a communication solution aimed at making a better calling experience between service providers and customers. Their services provide secure voice, messaging and conferencing with proprietary audio-analysis technology. Their call-enhancing features include in-app calling, automated verification, enhanced call treatment and voice clarity.
How they're changing software: We all know the frustration of bad calling systems, Vail's services are eliminating the dread of calling support centers and improving billions of customer calls.
Founded: 1991
What they do: Vivid Seats is the largest independent online ticket marketplace, connecting fans to thousands of concerts, sporting events and theater shows. The platform features tickets to every major MLB, NFL, NBA, WNBA and NHL game, and it features a 100% buyer guarantee, assuring buyers that tickets are always authentic and correct. 
How they're changing software: The Vivid Seats platform helps fans to easily find their favorite live event, peruse seats, see a picture of their view and then purchase- all through the same platform. 
Founded: 2001
What they do: Wellspring came out of Carnegie Mellon University as a tech transfer solution predominately for universities and research institutes. Today, Wellspring provides software that scans thousands of data sources, finding emerging technologies to identify new trends and opportunities.
How they're changing software: A variety of leading companies and organizations use Wellspring's solutions, including BP, Nike, University of Minnesota and Johnson & Johnson.
What they do: Bswift's cloud-based software provides benefits administration for employers nationwide.
How they're changing software: Bswift provides an administrative software platform that allows employers to manage their benefits packages, while providing employees with the flexibility to pick and choose their benefits based on their specific needs.
Founded: 1996
What they do: To help organizations manage increasing amounts of data, Cribl has developed tools for arranging information in a more efficient manner. Companies can now gain a more detailed picture of why their systems deliver certain outputs. 
How they're changing software: While many companies notice the results of a system, this practice merely scratches the surface. Cribl's solutions allow businesses to go further, analyzing data and determining safer and more effective ways to organize that data. As a result, companies can develop a deeper understanding of their information and know how to store and protect it. 
Founded: 2017
What they do: Nexgen Packaging leverages software and analytics in their design and manufacturing processes for the retail, footwear and apparel industries.
How they're changing software: Nexgen's software platform is designed to meet the needs of both the vendor and supplier for supply chain efficiency. The Westmont-based company's platform features a global user base, an analytics dashboard and actionable insights throughout a company's supply chain process.
Founded: 2006
What they do: Kenna Security is a risk intelligence platform that enables IT and security team to proactively manage risk.  
How they're changing software: Kenna Security's risk SaaS combines enterprise and asset data with real-time threat intelligence to give IT teams a holistic insight into their current protocols. With Kenna's platform, security teams are able to assess risk and identify vulnerabilities from a single dashboard.
Founded: 2010
What they do: Slalom is a business and technology consulting firm that develops personalized strategies and systems for clients.
How they're changing software: Slalom consulting helps companies optimize their technology, better target their audiences and design their digital experiences. The company, with offices all over the US, had over $1 billion in revenue in 2017.
Founded: 2001
What they do: Ansarada is a platform that manages the flow of information in financial transactions.
How they're changing software: The company's software streamlines and secures data shared between companies in mergers, fundraising and IPOs. Based in Sydney, Australia, but with an office in Chicago, Ansarada uses software to help investors get a holistic view of their deal.
Founded: 2005
What they do: SurePayroll offers a web-based platform with which small business owners can manage their compensation and payroll operations.
How they're changing software: Small business owners operate with a smaller budget than larger companies, but SurePayroll helps them manage their payrolls without having to cut costs. They offer an affordable option for small businesses to organize 401(k), health insurance, tax and workers comp payments, giving companies the ability to automate those processes so that they can focus on business expansion and development.
Founded: 2000
What they do: Cloud5 Communications improves offers a myriad of communication tools to help hotels better connect with guests.
How they're changing software: The cloud-based platform helps hotels upgrade their high-speed internet connections and communication methods. Hilton, Best Western and Wyndham Hotels are just a few of the hotel chains improving their communication platforms with Cloud5.
Founded: 2004
What they do: Dealer Inspire is a website platform dedicated to offering customized solutions for auto dealerships.
How they're changing software: The company offers a website building platform for car dealerships to create customizable, streamlined websites. The software allows car companies to integrate inventory, geofencing and payment calculators to help for a better user experience.
Founded: 2012
What they do: PrintWithMe enables users to pay for and print whatever they need through email attachments. The printing stations are located in convenient spots like coffee shops, co-working spaces, residential buildings or wherever a kiosk can be set up.
How they're changing software: PrintWithMe's solutions work with laptops and mobile, making printing more accessible for anybody on the go or those without a home printer.
Founded: 2014
What they do: Cleo offers a myriad of enterprise integration software solutions.
How they're changing software: The company's solutions manage file transfer, enable interactive messaging and upgrade data pipeline security. Cleo's team does everything from integrating their software into current technologies to training enterprise employees on how to best use their product.
Founded: 1976
What they do: Connamara builds marketplaces, exchanges and trading applications for  financial institutions.
How they're changing software: Connamara specializes in developing large-scale financial systems. The company's software helps to run over one hundred different financial marketplaces and exchanges, that are personalized and available on all platforms.
Founded: 1998
What they do: The Foursquare platform allows for users to check-in and share their locations with friends. The company's mobile apps are used by over 50 million people a month and have registered over 9 billion check-ins.
How they're changing software: The company's apps allow for a social media platform, where users interact and share recommendations on everything from restaurants to shopping centers. Foursquare then uses their location-based data to help businesses, like Uber and Apple, with targeted advertising.
Founded: 2009
What they do: Adeptia creates B2B integration solutions, automating an array of data and business processes. Their platform is industry specific, serving companies in insurance, healthcare, manufacturing, retail and more.  
How they're changing software: Adeptia shrinks the onboarding process for new customer data from weeks to just minutes. Some of the biggest names in finance and insurance are using Adeptia's solutions, including U.S. Bank, MassMutual, Nasdaq and United Health Group.
Founded: 2000
What they do: Lightstream creates the software that enables streamers to share their talents with the world.
How they're changing software: Lightstream's software allows streamers to personalize their streams with guests, original images and logos. The platform supports Facebook live, Youtube, Twitch and Mixer.
Founded: 2014