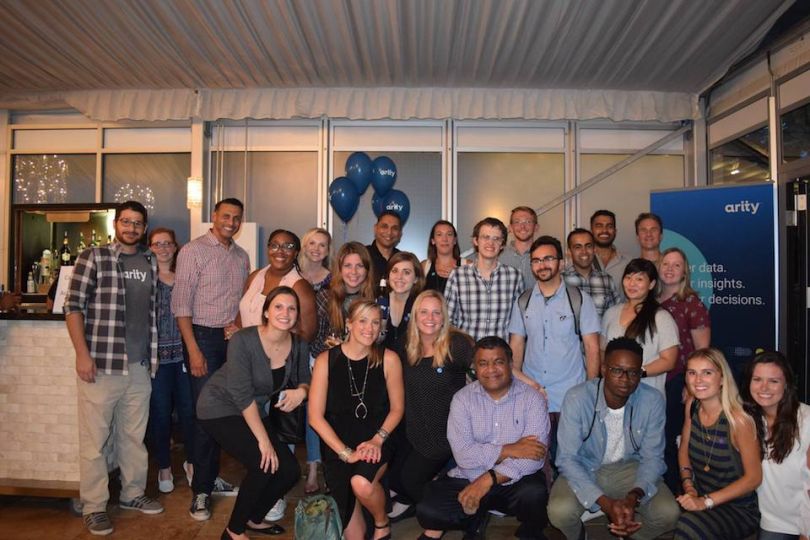 By anyone's standards, Arity has had a remarkable year. But by startup standards, Arity's year has raised the bar, big time.
The company, which only officially launched in November 2016, has already ballooned to a headcount north of 300. And, in traditional Chicago tech style, that team is a pragmatic one, heads down and hard at work solving a problem that affects millions of Americans.
"We believe the transportation system is broken and that it will change dramatically over the next 30 years," said president Gary Hallgren. "This as an opportunity to truly transform not only the transportation system but what it can be to society."
Arity uses big data and predictive analytics to help companies more accurately assess an individual's driving risk. Insurers use a variety of factors to measure a person's risk. These factors, such as a person's age, often don't account for individual variation. Other factors taken into account, like a credit score, have no bearing on driving skill whatsoever.
"We believe that in the future, a key variable for rating drivers will be their actual driving and not personal aspects unrelated to being behind the wheel," said Hallgren. "Our understanding of risk and driving is going to put us in a unique position to help companies navigate this change."
Arity's understanding of risk — and much of the fuel for its breakneck growth — comes from the time it spent as a part of Allstate. In 2010, the company started gathering driving data — like metrics around braking, acceleration and engine speed — from customers using sensors plugged into a car's onboard diagnostics port. As smartphones became more advanced and filled with more sensors, the team started building apps to capture more driving data.
"We take that sensor data and marry it with data we've collected, such as claims data, or other data like weather data," said Hallgren. "The combination of this data makes our insights that much more predictable."
Rather than keep its software and insights in-house, Allstate launched Arity to bring its solutions to market. The company recently signed a deal with National General Insurance to underpin its usage-based insurance plans.
"Where we see this going is that units of risk, or units of miles, will be purchased based on how you drive, the conditions and the situation you're driving in," Hallgren said. "That level of sophistication is coming, and I think everyone knows it will become the norm."
Unlike a lot of companies, our data scientists aren't working on mundane stuff like optimizing click-through rates."
Hallgren also said three shared mobility companies, which he declined to name, have signed contracts with Arity.
"If I'm going to share my car with Mary, I want to know that she's a good driver," said Hallgren. "I want to know that my ride-share driver gets four stars because he's a good driver, not because his car doesn't stink."
Arity hired around 50 people, mostly data scientists and engineers, in 2017. Hallgren said he expects to hire at a similar pace in 2018.
"Unlike a lot of companies, our data scientists aren't working on mundane stuff like optimizing click-through rates," said Hallgren.
In addition to working on large-scale projects, Hallgren points to the company's connection to Allstate as another perk of working at Arity.
"Our scale and capabilities give us the opportunity to be funded in such a way that our products will be used and marketed," said Hallgren. "Sometimes when you're a small startup, those things are harder to do. Ultimately, people want what they're working on to get to market."