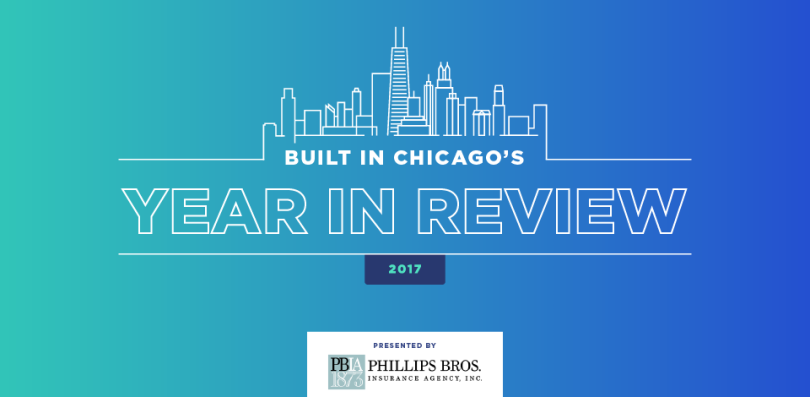 Chicago tech's momentum keeps on building, with companies raising more than $1.73 billion dollars in 2017.
That number is up from the previous year's $1.7 billion, and, in terms of venture capital, the ecosystem had its best year in recent memory.
Thirty-four companies raised $10 million or more, and a whopping 113 companies raised funding rounds upward of $1 million. That number is up from 99 companies in 2016.
All told, Built In Chicago tracked funding rounds from 188 digital tech companies.
Thirty-four companies raised $10 million or more." 
Outcome Health, which landed the year's biggest funding round at $500 million, hit a speed bump at the end of the year following reporting by The Wall Street Journal questioning the accuracy of the company's performance metrics. Investors initially sought to recapture part of the funding following the reports, but the parties have since resolved their differences through a deal that includes leadership changes and a new injection of funding from the investors and Outcome's founders.*
That said, the Chicago tech scene had no shortage of major funding rounds setting the ecosystem up for growth in the year to come.

Young startups make their mark
Uptake raised $207 million this year, spread across three major funding announcements. The startup kicked the year off with a $40 million round in February, supplemented with an additional $50 million in April. Uptake ended 2017 with a $117 million Series D valuing the three-year-old company at a cool $2.3 billion.
Uptake raised $207 million this year, spread across three major funding announcements." 
Tempus, which was founded in 2015 and leverages big data to make cancer treatment more personalized and efficient, landed a $70 million Series C in September. The round brought the startup's year-to-date funding to $100 million and its total funding to $130 million.
Momentum isn't the only thing Uptake and Tempus have in common. Both startups were co-founded by Brad Keywell and Eric Lefkofsky, the duo behind Chicago tech pillars like Groupon and Echo Global Logistics and the Chicago-based VC firm Lightbank.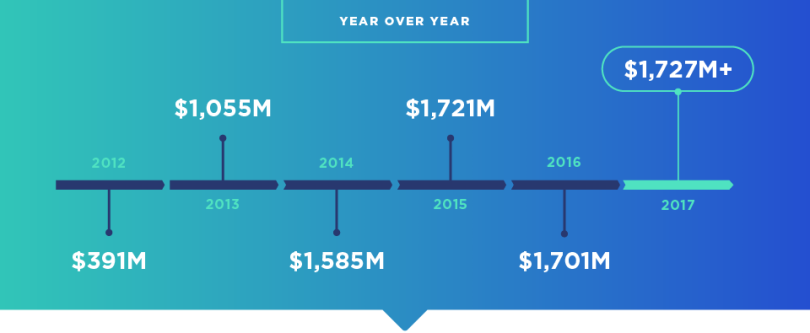 Several of the past year's biggest funding rounds went to established companies raising cash to support major growth initiatives. Evive, founded in 2007, filed for a $43 million funding round at the beginning of December to expand its team and boost product development.
GTreasury, founded in 1986, raised $42 million and Fusion Risk Management, founded in 2006, raised $41 million. At the time of their funding rounds, both companies said they will use the cash infusion to invest in new technologies and expand their respective teams.
Some direct-to-consumer startups also piqued the interest of investors." 
Consumer tech startups step up to the plate
Companies specializing in business-to-business technology landed the lion's share of 2017's tech funding — but some direct-to-consumer startups also piqued the interest of investors. Raise, whose gift card marketplace and digital wallet technologies let consumers shop online and in stores at a discount, landed the year's fourth-largest round at $60 million, and SpotHero's $30 million Series C parked the startup in the top 10 of this year's largest fundings.
ForeverCar, which lets consumers buy service contracts for their vehicles, landed $15 million in new funding. Reverb, which recently supplemented its online music gear marketplace with a section for vinyl and other physical music media, expects to keep growing with a $15 million round of its own.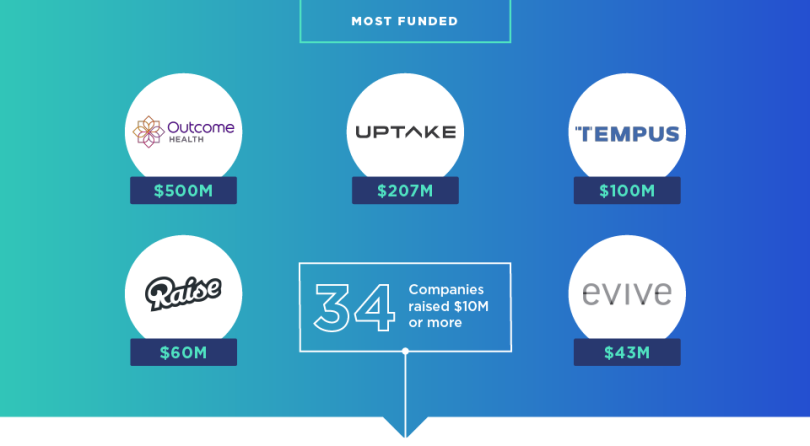 Exits were fueled by data — and nutrition bars
By our count, Chicago tech saw 43 exits in 2017. RXBAR made the year's biggest headlines with its $600 million acquisition by the Kellogg Company. RXBAR is still hiring aggressively in the city, with nearly 30 jobs open on Built In Chicago at the time of publication. DRIVIN, which was acquired by KAR Auction Services in April for $43 million, is also expanding its team at a rapid clip. The team, now fully brought into the KAR fold, is hiring for 10 roles on Built In Chicago.
Networked Insights, which kicked off the year by raising $30 million, joined the American Family Insurance team through a December acquisition. At the time of the deal, American Family said it will rely on the startup to expand its data analytics capabilities. Terms of that acquisition were not disclosed.
Neurensic, which raised $9 million in funding for its artificial intelligence software designed to spot bad actors in high-frequency trading, was acquired by Trading Technologies, another Chicago fintech firm, this year. The Chicago fashion tech scene also saw consolidation in the form of Threadless' acquisition of Bucketfeet. The terms of these deals were also not disclosed.