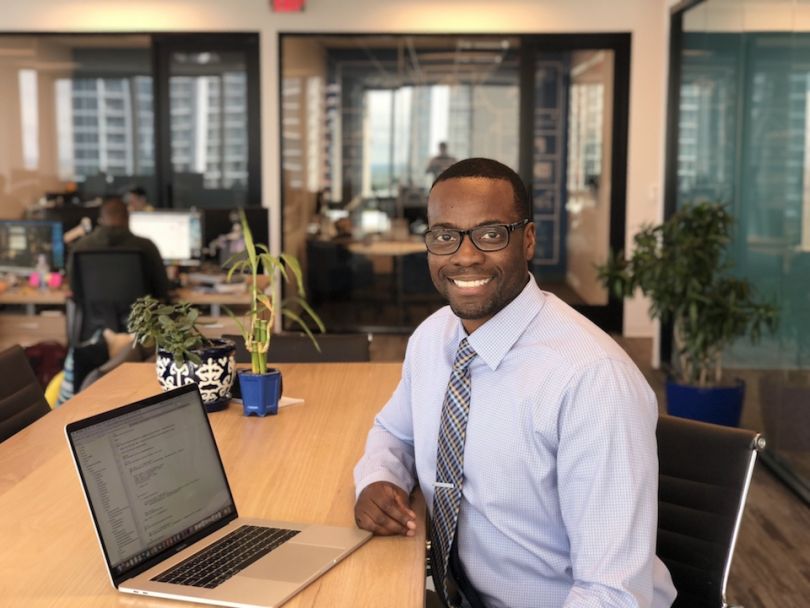 It's rare to join a new company and make an immediate impact, but that's what happened to CapTech Java developer Chima Uwah. As a consultant, his first project was for a multinational bank that had tried and failed four times to implement a new enterprise system to process online customer requests.
Not only did they succeed where others failed, but the system they built ended up making a difference right away.
In addition to solving complex technical problems, Uwah is a team coach who helps colleagues hit their goals and shape their career paths. We recently spoke with him to learn more about his role and CapTech's unique coaching culture.

Tell us about your role. What is your favorite part?
I help clients find solutions to their business problems through building custom enterprise applications and systems. I'm also heavily involved in leading and contributing to our internal thought leadership, office culture and employee development efforts. To my core I am an engineer, and what I love most is designing and building systems that solve complex problems.

What's the best project you've worked on at CapTech?
The best project I've been a part of was an award-winning enterprise system for a multinational bank. Our applications suite automated a process that was previously manual, and reduced average application fulfillment times from days to hours, which saved the bank millions of dollars. This stands out not only because it was the bank's fifth attempt at this effort, but because we had a rock star team that was so enjoyable to work with, and because it was my introduction to CapTech.
We have leaders who empower and support team members and encourage discussion and collaboration."
Collaboration is key in the consulting industry. How do you collaborate, both as a team and across departments?
Collaboration is a core competency of ours and it's built into the fabric of what we do and who we are. We understand that team dialogue, debate and diverse views are the way to uncover the best solutions and that they create an environment in which all team members feel heard and valued. And it starts at the top. We have leaders who empower and support team members and encourage discussion and collaboration within and across project teams and offices.
As a leader, how do you support your team members' individual professional aspirations?
As a team coach, I actively advocate for my team members while helping them make developmental action plans. I illustrate how to set attainable, relevant and measurable goals, and encourage them to utilize all available resources. I recently spoke with a team member about shifting his goals; he wanted to focus on a new goal that involved an emerging technology. I reminded him that his goals are fluid and not for anyone but himself, and that they should reflect his interests and desired career path.
What makes CapTech's culture different from other places you've worked.
It's not created from policies or directives. It's organically formed by everybody's unique talents, skill sets, ideas, interests and personalities. People continually donate their time to provide opportunities for everyone to interact, get involved, stay connected and develop, all while promoting a comfortable, healthy, inclusive work environment that's guided by each office's spirit.
What characteristics does someone need to be successful in your role?
You need to be able to deliver high-quality solutions while building sustainable client relationships. This role also requires you to be an excellent communicator who is detail-oriented, open-minded and flexible. You should be able to foster and support a collaborative work environment centered on coaching and feedback. In addition, you should have a desire to learn new technologies, stay abreast of tech trends and actively share insights with others.