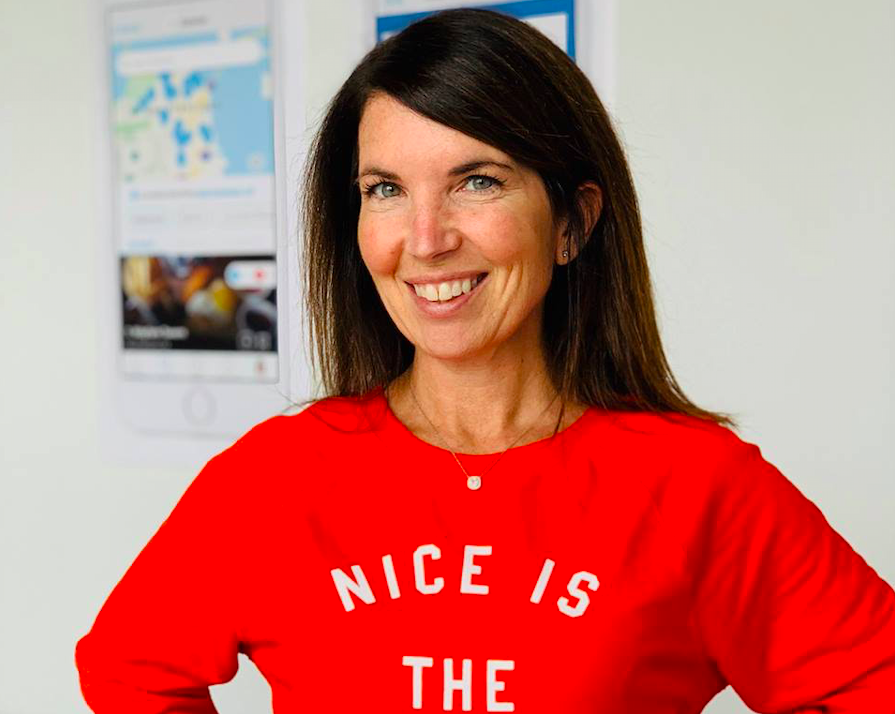 Susie Hultquist is a self-described math person. 
At the height of her career as a professional investor, she managed a $2 billion portfolio, so research and numbers are kind of her thing.
As it happens, research is also big part of having a child with life-threatening allergies, which Hultquist does. When a coworker gave her a box of Thin Mint Girl Scout Cookies a few years back, deciding whether or not to bring them home was no easy task.
She texted some other parents of kids with nut allergies: "Are Thin Mints okay?" She clicked around on the internet. Fifteen minutes later, the cookies had been cleared. 
She did the math.
Thirty-two million people in the country with food allergies. Fifteen minutes per allergy question.
"We all just spent eight million hours on Girl Scout Cookies."
That's how Hultquist got the idea for Spokin, a platform for allergy-friendly recipes, product and restaurant reviews, news and injection reminders. Ideally, Spokin helps people with allergies — and their friends and families — spend less time searching the internet for scattered allergy information and helps companies market to the growing population of people who have to avoid certain foods.
Food allergies have increased sharply.
People with food allergies can't eat certain things, but many also can't touch certain objects, travel to certain places, or kiss certain people — like someone who just ate an allergen-filled sandwich, for example. For people with life-threatening allergies, some experiences are just too risky.
There's a school trip this year. She cannot go."
"My daughter speaks Mandarin, and she has from third grade on. That's the language she chose. There's a school trip this year. She cannot go, and I say yes to everything, but they're going to remote areas of China with no Wi-Fi service," Hultquist said. "There is so much freedom that is taken away from you, and the vigilance truly is 24/7, 365 days a year."
The market for a tool like Spokin is growing as food allergies become more prevalent. The number of children with food allergies increased 50 percent between 1997 and 2011. Peanut allergies in particular more than tripled among U.S. children during that same period. 
No one knows for sure why food allergies are on the rise, but the increase appears to be connected to environmental and lifestyle factors — developing countries and rural areas have fewer instances. Since allergies are currently incurable, it falls to affected parties to monitor not only what they eat, but also what the people around them are eating and how their food was prepared.
This can make activities like going to restaurants especially tricky. Some restaurants are transparent and accommodating — others are not. But specialty diets and misuse of the word "allergy" can make this equation tough on restaurateurs as well, Hultquist said.
"Someone will say they're allergic to wheat, and restaurants will go out of their way to cater to that, and then that person will eat a brownie for dessert," she said.
Hultquist and her daughter appeared on a peanut-focused episode of the Netflix documentary series Rotten, which critically examines the global food supply chain, to talk about the challenges of navigating the world with a food allergy. Hultquist hopes to make the experience easier, she said, by taking the fragmented food allergy community and consolidating its recommendations and warnings on a single platform.
"We have Celiac [Disease] on our app too. Someone just put in gluten-free beignets and donuts at a place in Florida. And we're like, oh my gosh, that's amazing. Those are huge wins. Because otherwise, that person is just not able to have those things."
The next steps for Spokin
Four years after its launch, Spokin users have reviewed 45,000 establishments in 73 countries. Its team is lean, with seven full-time employees, but it's looking to bring on a content and social media manager in the next few weeks.
In terms of business development, the next big step for Spokin is monetization. On its new platform that likely will roll out in November, companies can pay to have their brand names "verified," meaning they've confirmed the allergen information displayed on the app. These companies will also have first dibs on product features and campaigns that use customers' data to serve up targeted content.
Spokin's first corporate partners are in the consumer packaged goods, quick service restaurant and pharmaceutical spaces, Hultquist said. 
We're taking data that's all in one place. Not someone's tweet, not someone's comment on social media."
In the future, Spokin's model may work for people with other conditions that require food management, like Crohn's Disease, Colitis, Lyme Disease, Eczema and inflammatory bowel disease. 
It also may leverage its community to make the world a more accommodating place for people with food allergies. It's already approached the app's lowest-rated restaurant chains and asked them to shape up, Hultquist said. Of course, customers with food allergies have probably already asked, but Spokin is armed with data. 
"This is a really big market, so [restaurants] don't want anything to go bad," Hultquist said. "So we're taking data that's all in one place, not someone's tweet, not someone's comment on social media. That's why it's so important for the data to be aggregated."
To reach this potential, Spokin will need to boost its visibility and its funding, and Hultquist is setting the stage.
She appeared today on an episode of Entrepreneur Elevator Pitch, produced by Entrepreneur magazine, in which she got 60 seconds to persuade a panel of deep pockets to invest in Spokin. Investor David Meltzer — a CEO and author who used to work with Jerry Maguire inspiration Leigh Steinberg — agreed to invest $100,000 at an $8 million valuation cap and help drum up another $150,000 to get Spokin to its SAFE note goal before it raises its first institutional round. 
After flying under the radar for a few years, Spokin is preparing to shift its strategy.
"We kind of joke that we've been un-Spokin," Hultquist said. "We're ready to change that."