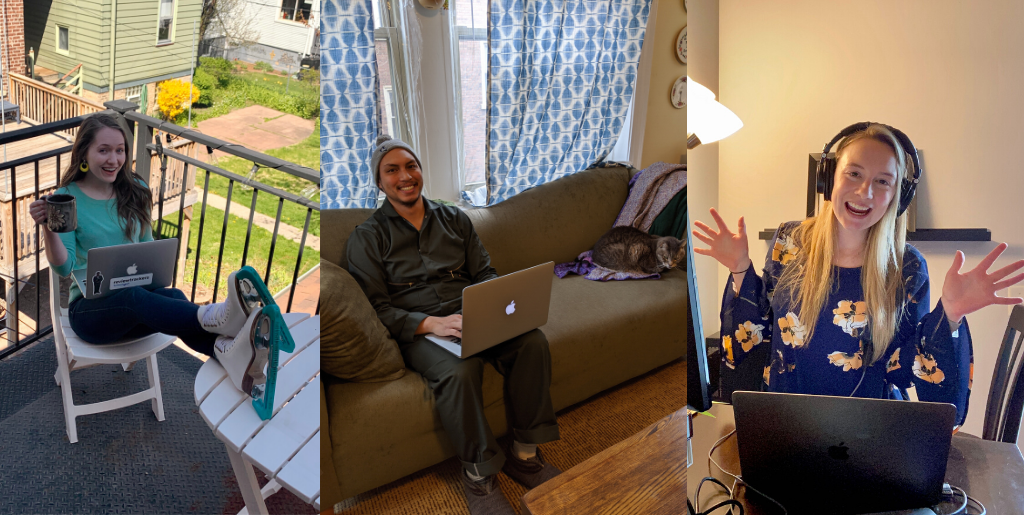 Building and maintaining customer relationships when it's not possible to meet physically can sound like a Herculean task. For many companies in this situation, developing and cultivating their online communities has never been so business critical.
The following three Chicago tech companies found a silver lining amid the coronavirus pandemic: a chance to strengthen their digital communities and build long-term customer relationships at the same time. 
Customer review software company ReviewTrackers doubled down on its branding efforts by showcasing the team's relatability, offering industry updates in the form of customer success managers singing and dancing.
Meanwhile, online learning platform Black Spectacles expanded its digital learning resources for architects by adding live virtual workshops and Q&As with experts, while driving users to its existing podcast and customer support.
And supply chain visibility platform FourKites responded quickly by increasing opportunities for its customers to provide feedback and feel ownership over its products, even encouraging them to share their adaptation solutions with each other.
Tech professionals from all three companies said they found success using three very different approaches, proving there's no best way to manage a digital community. Just be creative and authentic, and keep the lines of communication open.
As an online learning platform for aspiring architects to become licensed and advance their careers, Content Manager Kate Brennan said Black Spectacles already had a loosely-affiliated community of ambitious professionals on similar learning journeys. But the company saw the pandemic stay-at-home orders as an opportunity to offer increased virtual support and foster engagement via virtual instructional test prep workshops, live Q&As and a hotline with experts standing by.

 
What was the most important strategy you used to build a digital community around your brand? 
 
Our platform is all digital, and we want awareness around the ease of our online community and digital test prep resources. We've deployed email marketing and social media to drive current and potential users to our monthly podcast, our online forum and to our Architecture Registration Exam (ARE) prep materials. We recently launched weekly virtual workshops as part of the test prep: online instructional videos taught in real time. We've also enhanced our ARE community forum by hosting live Q&A's online featuring expert architects. All of these tactics involve employees across multiple departments, so it really is a team effort. I think because we create a community within our team, it lends itself to creating one for our members.

 
How have you leveraged that digital community to improve your engagement at a time when physical connection isn't possible? 
 
Black Spectacles focuses on supporting architects, so we connect by making content and material readily available. We've enhanced multiple programs in our ARE community, including the aforementioned live Q&A, and introduced our ARE hotline featuring experts standing by to answer all questions test-takers have about the material. Our community members have been incredibly receptive to these additions and it has generated interest among those who haven't participated in our forum previously. I think it's also fair to mention that online interaction could stick around for some time, so in anticipation of that, we are working diligently to bring even more projects to our members in the coming months.

 
What has been the most important consideration for your team when it comes to the messaging and tone of your digital content? 
 
Black Spectacles cares deeply about our members; our entire mission is to help architects advance their careers. Right now, architects are experiencing disruption on a career path they've been studying and striving for over the course of many years, compounded by the trauma of current affairs. Our biggest consideration is assuring our customers we are here for support and to facilitate an upward trajectory in their achievements, despite pauses in testing or a shaky job market. To do that, our customers don't need to hear from us, they need to see what we can offer them. We've found that additional online activities such as expert Q&A's on our ARE Community forum, our longstanding podcast, "ARE Live," and world-class customer support help our members through this nebulous time.
FourKites is a predictive supply chain platform that major companies use to track and manage shipments across the world, helping lower operating costs and improve on-time delivery. Megan Uithoven, a product lead, said the company has built its digital community on a foundation of trust and collaboration by encouraging customers to provide feedback on existing products and developing concepts directly to product managers and UX designers. Those suggestions are incorporated and discussed with customers along the way so they feel a sense of ownership in the products, and FourKites even asks customers to share learnings with their colleagues within the network.

 
What was the most important strategy you used to build a digital community around your brand? 
 
One of our business objectives for our digital community is to capture product feedback and new product ideas from customers. We built an online IdeaExchange where customers can submit enhancement requests and upvote other customers' ideas. But the ideas don't just sit idle. Our product managers provide status updates for every idea submitted, and our customers can see their suggestions move from "under consideration" to "on roadmap" to "delivered."
 
This isn't necessarily a unique strategy, but we took this collaborative innovation with our customers one step further. We kicked off a second product feedback initiative in our community called Product Panels. In these small forums, our UX designers share early concepts of products and get important feedback at the beginning of the product development cycle. The designers learn more about our customers' workflows, challenges and preferences. This process builds trust with our customers; they know our product roadmap and development are built with their long-term success and happiness in mind, and they are engaged the whole way through.   

 
How have you leveraged that digital community to improve your engagement at a time when physical connection isn't possible? 
 
Because our customers are so busy at this time, one way we've made it easy for them to connect with the community is through short, visual polls. For instance, does this workflow or that functionality better solve your problem? The polls are designed to capture their attention for just a moment: they see a pleasing design, share their feedback, read what others think, and then get back to running their supply chains.
 
Within hours of publishing our first poll, we had more engagement than we had anticipated receiving over days. We'll continue to weave these micro-experiences into our community, knowing that our members are always busy but genuinely want to stay engaged. 

   
What has been the most important consideration for your team when it comes to the messaging and tone of your digital content? 
 
Our customers are global companies moving goods all over the world. They are the ones getting food and toilet paper to our grocery stores, personal protective equipment (PPE) and medication to our hospitals, other essential goods delivered directly to our homes and much more. They use our software for real-time visibility into where those goods are in the world, whether they are transported by road, rail, ocean or air.
 
At FourKites, our ethos is to harness the power of our network for the greater good of our customers and partners, and our online community is an extension of that. Our customers are extremely busy during this pandemic, so our first priority has been to ask and listen to their immediate needs. In doing so, we learned that many of our customers expanded access to the FourKites platform to colleagues and partners who normally wouldn't have engaged with it. So we quickly aggregated onboarding and technical FAQ materials relevant to managing a supply chain in a pandemic, and centralized them on one dedicated site in order to get new users up to speed as quickly as possible. We wrote dedicated articles on how to leverage certain features in an emergency, and we asked our customers to share within the FourKites community what's been working for them so that others can learn from their experience.
Given that ReviewTrackers serves many small businesses seeking measurable insights on their customer feedback, Chelsea Glosser, a social media and community manager, said that it was important for the company to speak to their needs during the pandemic, but in a positive way. ReviewTrackers formed a private LinkedIn customer community to offer support and encourage information exchange. The company also created informative videos on industry updates for customers to stay abreast of rapid developments amid the crisis, but featured dancing and comedy to keep things light. The company infused that hopefulness in a pay-it-forward positive review campaign, too.

 
What was the most important strategy you used to build a digital community around your brand?  
 
In the wake of COVID-19, we knew everyone would be inundated with similar messages about measures businesses are taking. While this messaging is valuable, we wanted to go a step further and humanize our brand by bringing our team to the forefront of our content. We started a work-from-home spotlight series to showcase how we're making the culture transition, and to be relatable to our customers and potential prospects. 
 
We also developed an "industry updates" video series starring one of our customer success managers. As we saw rapid changes with Google My Business, Yelp, TripAdvisor, Facebook, etc., we wanted to keep everyone abreast of them, and how they should react. However, we still wanted to keep it fun, because despite things being serious, we knew people were burned out by the same COVID-related content. We kept the videos lighthearted by presenting them like a news show, sharing weather updates and even including some Backstreet Boys dance moves.
 
The biggest message we wanted to send is that we're just like everyone else — at home, going through this — so why not have a little bit of fun together while we prepare for what's next? 

 
How have you leveraged that digital community to improve your engagement at a time when physical connection isn't possible? 
 
Along with posts on our external channels, we created a private customer community on LinkedIn to share the latest updates about happenings with different review websites and strategies to manage these changes. 
 
The goal of the customer community is for people to feel supported, ask questions of one another and have direct access for learning best practices and collaborating. We saw many of our customers join the community, and most of the engagement has come from liking or sharing articles. As things continue to change, especially with Google Reviews, customers are asking each other questions directly, and our team can also jump in to offer suggestions or solutions. 

 
What has been the most important consideration for your team when it comes to the messaging and tone of your digital content? 
 
We didn't want to put out anything that wasn't authentic to our brand, our culture or our values. We also wanted to speak to our community, which includes many small businesses, so we wanted to show we understood what they are feeling right now. With this in mind, we launched a pay-it-forward style campaign encouraging people to leave online reviews for local restaurants, and to tag others to do the same. We saw that giving back and showing how much we care about our local community caught on quickly, and leaving positive reviews for restaurants was a low-cost, high-impact way to support them. Empathy and kindness has always been the backbone of our messaging, so we wanted to bring that to the forefront.