As the sun sets in downtown Chicago, a poker game is about to begin in the Board of Trade building. Seated comfortably in a conference room, a group of engineers count their chips, crack jokes and scan each other's faces for potential tells. 
Imagining a room full of men? Think again. 
The poker game is hosted by Powher, a women's initiative at fintech company PEAK6. This weekly event allows team members from all sides of the business to connect, and it's one of the numerous ways the company seeks to carve out space for women to meet and learn from their peers. While PEAK6 may exist at the crossroads of two traditionally male-dominated industries — tech and finance — that doesn't mean it's willing to settle for the status quo. In fact, it's pushing for more women in tech.
Comprehensive internship programs, networking opportunities and a deep relationship with the Chicago tech scene have allowed PEAK6 to expand its applicant pool to include more women and set them up for success in the field of engineering. 
 
I've grown to be more of an initiator instead of just executing what needs to be done."

According to Senior Software Engineer Lan Quach, the company's commitment to supporting women's careers continues long after that initial job offer is accepted. Quach said that with the help of the company and her peers, she was able to expand her programming knowledge and build the confidence and communication skills needed to move her career forward. While she formerly worked on PEAK6's crypto platform, now she oversees it. 
"I now take more ownership when it comes to offering a tech solution that solves problems," Quach said. "I've grown to be more of an initiator instead of just executing what needs to be done."
Nurturing engineering talent requires a great deal of commitment from any company, and the leaders at PEAK6 want to play their cards right. Through trainings, affinity groups and events with the greater tech community, the company hopes to give more women the skills they need to advance. To learn more about the impact of these initiatives, Built In Chicago spoke with Quach about how she has benefitted from the additional support.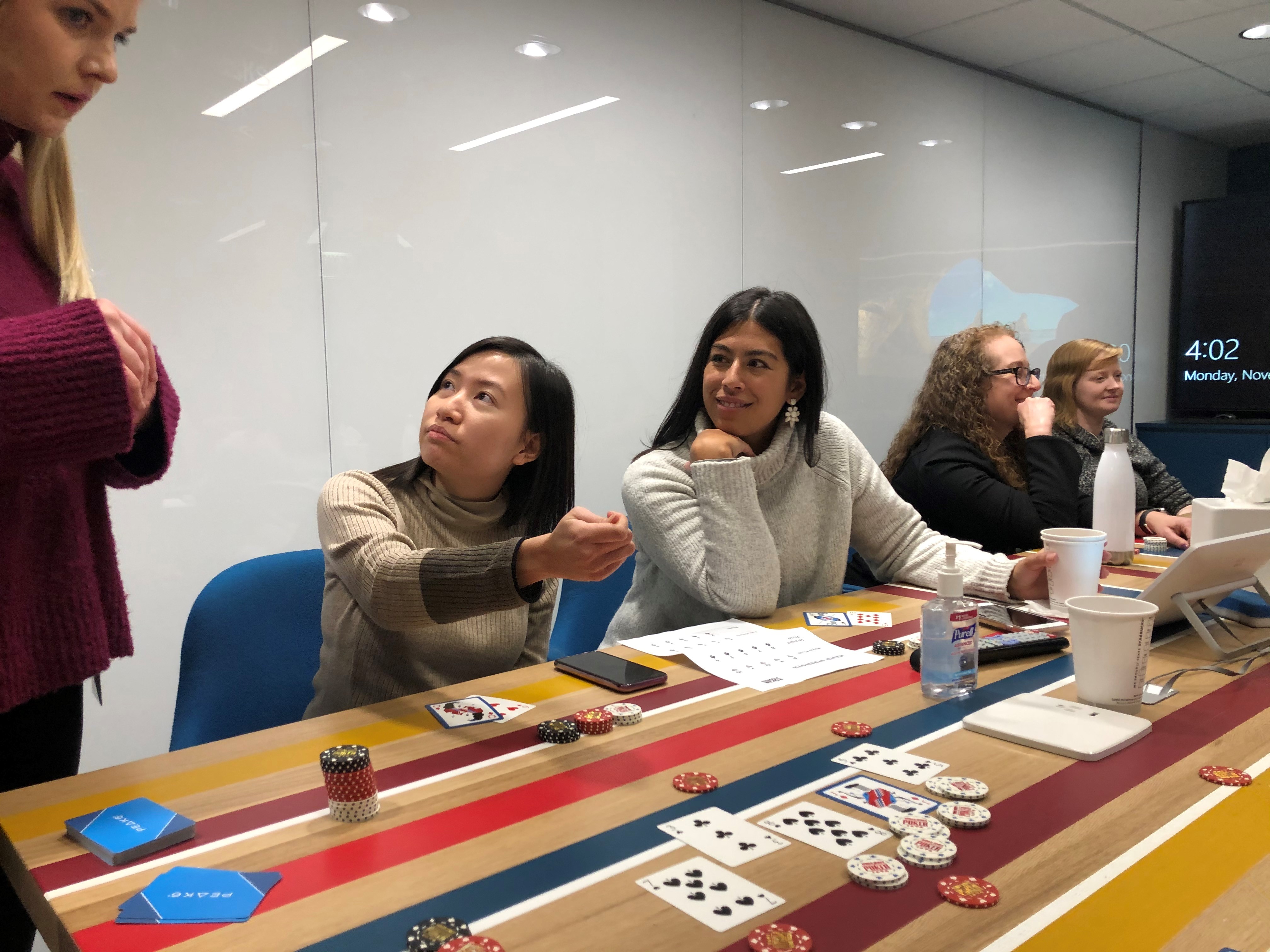 As a woman in a male-dominated field, how does PEAK6 make you feel included?
When I first started working for the firm, I had great managers that guided me through the industry and taught me how to think like an engineer at PEAK6. They served as mentors who were really focused on my career growth and pushed me to grow my technical skills. 
Earlier in my career, I was intimidated to be in meetings with so many men, but the women I worked with led by example and showed me how to interact in meetings and to be a better communicator. 
 
The numbers are changing, but I would like to see even more women in tech. It's a really good career."

What are some ways your technical skills have advanced at the company?
I volunteered to tackle more challenging technical tasks that I had never done before, which allowed me to research and learn about new topics and improve my technical knowledge. Doing so made me think of better approaches even when working on familiar problems. 
I also took the initiative to attend lunch and learns and give presentations at work. Explaining problems and solutions to other people reinforced my knowledge and improved my communication skills. 
How has PEAK6 supported you in learning new skills?
I've participated in company hackathons, which are good opportunities to get experience in different areas while collaborating with people across the firm. The winning projects are given the opportunity to become something real after the hackathon is over. 
PEAK6 also has a reimbursement program for people pursuing degrees and certifications that help with their job. Several coworkers and I took a course together on MongoDB and were all certified at the end. There are also opportunities to attend technical conferences — I attended the GopherCon 2018 and the Grace Hopper Conference in 2019, both paid for by PEAK6.
Engineering success in the trading industry
PEAK6 offers an internship program for women called the Women's Technology Experience. The program aims to introduce more women to the kinds of environments they'd be in if they pursued engineering as a career with PEAK6. Those enrolled not only pitch, build and present their own projects, but they also leverage the company's tech stack to build tools compatible with the platform. To top it off, participants can seek advice from mentors and attend workshops led by traders and tech leaders alike. 
What other women's initiatives are there at PEAK6?
Powher is our multi-faceted women's initiative. It's more robust in its offering than traditional women's business groups. Powher has provided a way for me to make connections with women across the firm and has given me many opportunities to learn and develop my skills. 
What is an example of an event Powher holds, and how have you benefited from it?
PEAK6 has an annual poker tournament in the office. At first, I didn't play because it seemed intimidating. 
But I do like playing games, so I went to a Poker Powher session that was held just to teach women in the firm how to play poker. I felt comfortable learning in that environment and it led me to join more of the Poker Powher weekly tournaments. During the COVID-19 pandemic, we've been using an online app to play, which I've really enjoyed. 
I like the social aspect of being a part of the Poker Powher club, but I am also improving my critical thinking skills. I had always thought of poker as a game that cowboys play, but I was wrong. It, like trading, really is about risk and reward. 
What advice would you give to other women interested in growing their careers in tech?
Be an expert in one specific field or programming language, but keep learning different technologies and methodologies. Keep in touch with technology changes through blogs, newsfeeds and conferences. Seek opportunities to work on new projects to gain experience, and meet like-minded people to discuss changes in the industry.
The numbers are changing, but I would like to see even more women in tech. It's a really good career.