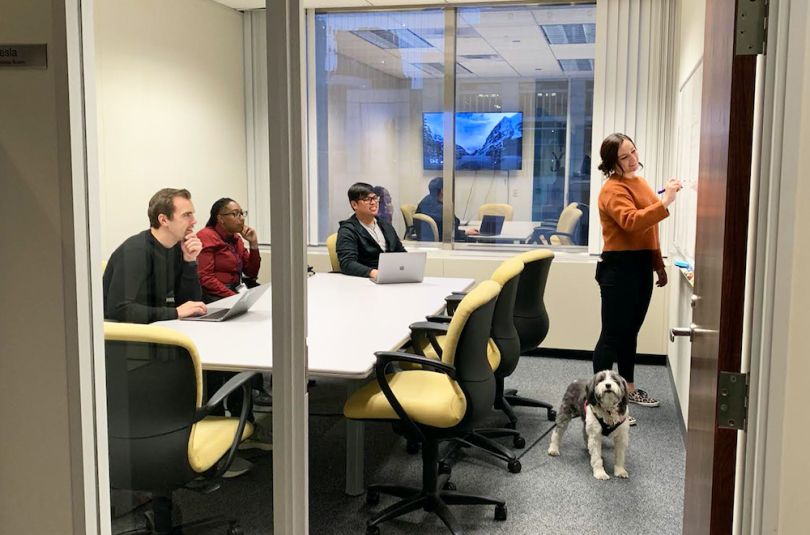 2020 may have been rough, but these six companies are optimistic for the things to come in 2021. 
Paro will rapidly grow its sales team as the finance professionals marketplace preps for a soon-to-be released self-service feature. 
Meanwhile, after seeing a sudden uptick in users on its video interviewing platform in 2020, Spark Hire has a series of enhancements lined up, in addition to lofty hiring plans.
Similarly, the call for cashless payment systems and remote access to business financials has also reached new highs, according to Bento for Business CEO Guido Schulz. 
"This will continue into 2021 as we are exploring ways to remove friction for home or field-based employees," said Shulz, who noted upcoming product releases that include an AI-powered receipt matching feature and new customizations. 
Here's what else is ahead in the new year for Chicago tech.
After successful efforts in addressing unconscious bias and microaggressions last year, Echo will continue to make the transportation management company more diverse, inclusive and equitable. VP of Talent Acquisition Sharon Garcia said this year's plans include the addition of internal committees, groups and partnerships with external consultants. 
What is one of the most important focuses for your business in 2021?  
From an HR perspective, we plan on taking Echo's D&I efforts to the next level this year by expanding our initiatives, such as our Diversity & Inclusion Committee and an employee resource group that advocates for diversity, equity and inclusion. We intend to approach this work by listening to and learning from our employees. Additionally, with the guidance of external experts, we are exploring ways in which we can structurally support this effort and ensure the changes we make have a lasting impact on our workforce, workplace and our business. We've already made some great strides in addressing unconscious bias and microaggressions, and we're looking forward to doing more in 2021. 
What impact will this have on the business and your industry?
The continued advancement of Echo's diversity & inclusion strategies will allow us to further promote and maintain a culture and atmosphere of mutual respect, where employees of all backgrounds, perspectives and abilities are empowered to reach their full potential. 
One of Echo's core values is "do what's right." For us that means listening, educating ourselves, paying attention to important issues and supporting our employees. We're committed to continuously growing by expanding our understanding of the diverse perspectives of our team members as well as our clients, carrier partners and the communities we serve. By doing so, we continue to work toward a future marked by empathy, equality and inclusion. 
"2021 is already shaping up to be our bona fide breakout year," said Paro VP of Sales Jon Repka. What's on the agenda for the gig work platform that serves financial professionals? Growing its sales organization across its inbound, outbound and partnership teams, plus the launch of a new self-service product flow for users.
What is one of the most important focuses for Paro in 2021?
On the go-to-market side, the big focus in 2021 is on channel specialization and the resulting scale it enables. We made 14 phenomenal new hires in Q4, and as we turn the page to the new year, the emphasis is shifting from onboarding and ramp-up to execution.
Paro is orienting our considerable sales talent into an expanded organization structure that rests on four distinct but interrelated channels. Our inbound team is benefitting from three team lead promotions and a considerable lift in marketing lead flow, which allows us to service more companies on the hunt for a better finance solution. Our nascent outbound team has ramped up beyond anyone's wildest projections and is bringing the Paro mission to companies unaware of what a business professional labor marketplace can offer. An expanded partnerships team is building deep relationships with capital providers, complementary technology developers and traditional accounting firms looking to adopt the wave of best practices ushered in by the gig economy. Last but not least, the launch of our first self-service product flow enables us to support businesses in a way we have never been able to prior.
What impact will this have on the business and your industry?
Paro's additional scale and strategic channel orientation will accelerate the finance world's long-overdue evolution. Our platform allows the country's best professionals to break the shackles of the Big 4 and Fortune 500, pursue their passions and realize the work-life benefits of the "gig" economy while earning more than they could previously. That entrepreneurial ownership directly extends to the value we can offer our clients as they tap into perfect-fit professionals on a truly on-demand basis. We're changing the way businesses and professionals think about finance and accounting. 
Usage of Spark Hire's video interviewing platform spiked in 2020 due to so many companies adopting virtual recruiting processes amid the pandemic. After doubling its team last year, CEO Josh Tolan said Spark Hire will continue to recruit while investing heavily in product and engineering. 
What is one of the most important focuses for your business in 2021?
A major focus for Spark Hire in 2021 is the continued evolution and development of our product. More than 6,000 organizations use Spark Hire to gain a hiring advantage and we're committed to this mission now, and during the great re-hiring that's destined to come.
Our 2021 product roadmap is stacked with enhancements and new functionality to help our customers build more structure, automation and engagement into their recruitment process. As such, we're aggressively recruiting talented engineers to join our product team and make our roadmap a reality for our customers.
What impact will this have on the business and your industry? 
Since the majority of organizations started working from home in mid-March, we've powered millions of video interviews across the world. The current remote environment has accelerated the adoption curve of video in the recruitment process that we've always viewed as inevitable.
Our headcount has scaled by more than 50 percent in the COVID-19 era to bring us to a total of 70 team members. Many of these hires were on our marketing, sales and customer success teams. With a strong go-to-market foundation for 2021, we're excited to invest even more into our product team. This will allow us to empower many more organizations to adopt video in the recruitment process with new features and offerings.
 
Arjun Dutt, Purchasing Platform's SVP of customer operations and product management, said they're preparing to be "scale ready" by focusing on their roadmap, customer experience and internal culture. The company's platform hosts a marketplace that connects property management companies with vendors. 
What is one of the most important focuses for your business in 2021?
Our main focus for this year is to get the business "scale ready." This means looking at what made our business successful in 2020 and applying those learnings to help the business achieve 10x growth in the next year or so. We'll achieve being scale ready by focusing on three components of our business. First, we'll pursue an aggressive product roadmap that builds a best in class e-commerce platform for our members. Second, we'll put a heavy emphasis on the customer journey as they interact with all aspects of our business. Last, we'll take our amazing culture that we built in 2020 and expand upon it as we grow the team.
What impact will this have on the business and industry? 
The journey to be scale ready will help us better serve our members. We also give our vendor network access to new business opportunities that they may not have had previously. Building out our platform makes us a "technology first" organization, which allows us to achieve scale in a way that the industry has not seen in the past. This delivers higher shareholder value to our investors, members and vendor network. In addition, as we build out a strong culture, we hope to attract the best talent and continue to grow our presence here in Chicago.
This year, Bento plans to add an AI receipt feature and advanced accounting customization to its platform that helps small and medium businesses with daily expenses and virtual payments. CEO Guido Schulz said the demand for a solution like Bento's in today's remote-heavy work environment has reached new levels.
What is one of the most important focuses for Bento in 2021?
The most important focus will be to provide maximum value to our clients in an economy changed by COVID-19.
Bento's spend management platform is especially relevant as businesses transition to more distributed models and need to empower their employees to work independently while not compromising financial control and reconciliation. We have become more pertinent as a solution provider in facilitating this transition and are committed to providing tools that are specifically designed to reflect this new reality.
What impact will this have on the business and industry? 
As a nimble startup, we have been able to quickly optimize our platform for a changing economy. This will continue into 2021 as we are exploring ways to remove friction for home- or field-based employees. This spans the gamut and includes launching an AI-powered receipt matching feature to supporting mobile wallets and advancing accounting customization in 2021.
The fintech arena is full of innovators, but the ones that can channel their value proposition in a way that creates value and allows for flexibility to keep pace with the rapid evolution of how business is done will prevail.
Launched in 2018, BrokerX will continue its efforts to "reset the energy industry," Founder and CEO Brett Jurishi said. Its platform, which shortens the end-to-end energy sales cycle, aims to standardize and establish buyer-seller trust in the deregulated energy market. 
What is one of the most important focuses for BrokerX in 2021?
In such a volatile market, deprived of regulatory oversight, standardization and afflicted with bait-and-switch schemes, our mission is to establish trust and transparency by uniting utilities, suppliers, brokers, agents and consumers through data. We will accomplish this by continuing to innovate and rapidly grow our technology platform, which is the only one in our space that automates the entire energy buying and selling process. With our proprietary technology that gives users access to formerly unobtainable data, we standardize the consumer sourcing, usage data and pricing process, which makes energy brokers more money and provides consumers with the most savings. 
Our thorough vetting process for both energy suppliers and energy brokers, as well as our third-party verification and electronic letter of authorization for consumers, enables us to administer critical oversight to prevent fraud. With our network of over 100 national energy supplier relationships, we empower all energy brokers with access to any energy supplier and provide all energy suppliers with an equal opportunity to provide energy pricing.

What impact will this have on the business and industry? 
Resetting the energy industry will transform it into a competitive and trustworthy market. It will shed light on a flourishing and lucrative deregulated energy market that is greatly overlooked. Also, it will create more jobs for energy brokers. This can apply to property managers, realtors and commercial lighting contractors looking for supplemental revenue, as well anyone looking for an opportunity to own their own business with the potential to make a substantial income. Most importantly, it will re-establish consumer confidence, increase the number of consumers choosing their own third-party energy supplier and provide consumers with significant cost savings.