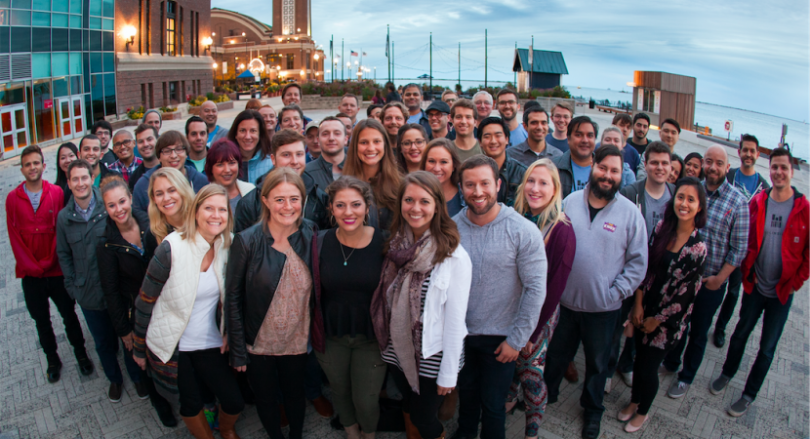 As far as funding goes, Chicago tech is closing out the year with a bang.
Less than three weeks ago, Uptake raised $117 million at a $2.3 billion evaluation. The following week, healthtech startups HealthiPASS and SwipeSense closed rounds of $7.2 million and $10.6 million, respectively. Then Kickstarter darling Tovala kicked off this week with a $9.2 million Series A.
On Tuesday, Label Insight joined the party with a $21 million Series C, more than doubling its total funding raised to date.
Label Insight uses data science and machine learning to capture and categorize information about packaged goods like food, pet products and cosmetics. That data is used by manufacturers to help consumers understand how products align with health goals, dietary restrictions and environmental concerns. It's also used by retailers to provide more comprehensive product data on their e-commerce platforms.
"The number of retailers and brands that leverage our data continues to grow, and we'll use part of the funding to accelerate that growth," said CEO Paul Schaut. "On the product side, we're expanding our coverage to new product types and to increase the number of products we can run through our engines."
The funding will also be used to bolster Label Insight's ranks of data scientists.
Founded in St. Louis in 2008, Label Insight is now headquartered in Chicago's Fulton River District. The company has maintained its founding offices in St. Louis, however, and its 115-person team is distributed evenly between the two cities.
"Our technical headquarters are in Chicago, but we support hiring and growth in both cities," said Schaut. "In Chicago, we have a great base of folks from the food industry, and the education system here is fantastic."
Delta-v Capital and River Cities Capital Funds led Label Insight's most recent round of funding. David Schaller, managing partner at Delta-v, will join the startup's board of directors.
Schaller said Label Insight helps brands address a growing consumer demand for transparency.
"Label Insight's unique data-as-a-service capability delivers significant value to the CPG industry by helping brands and retailers transform their businesses to be more transparent, while enabling government agencies and academic institutions to better understand and measure the impact of food products and ingredients on our population," said Schaller in a statement.
Prior to Tuesday's round, Label Insight had raised nearly $15 million in funding — most recently in the form of a $10 million Series B that closed early last year.
Schaut declined to share how many employees the company will add in the upcoming year, but said he expects the team to continue to grow.