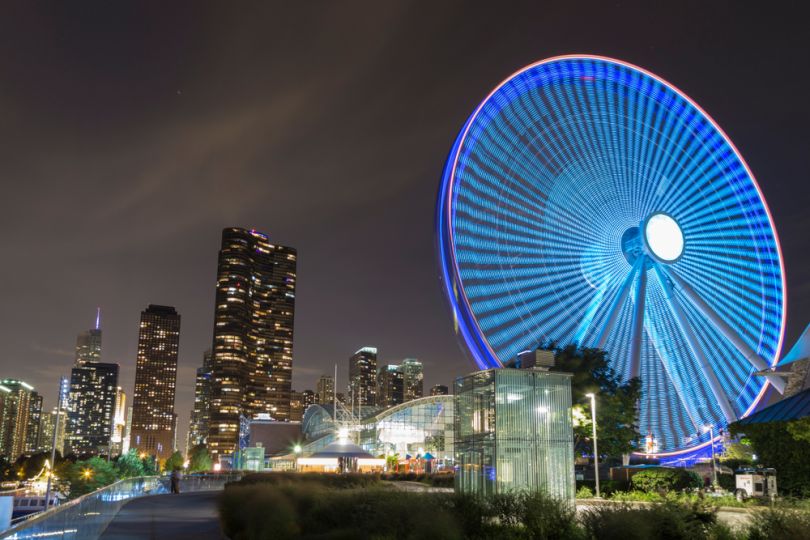 Whoah.
February was a huge month for Chicago tech leadership hires, with organizations like 1871 and Uptake scoring new talent for their upper echelons of management. Read on to meet the head honchos we've got top of mind:
After a long search, 1871 has found its new CEO in Betsy Ziegler, who most recently served as CIO and associate dean of MBA programs and students at Northwestern's Kellogg School of Management. Ziegler is also a former partner at McKinsey & Company. Founded in 2012, 1871 is now home to more than 400 startups. Ziegler will take the reins from CEO Howard Tullman next month. [Chicago Tribune]
Uptake just scored another GE executive for its leadership team. Ganesh Bell joins the Chicago startup as president and will be in charge of scaling the company's go-to market strategy, products and operations. Bell was GE's first chief digital officer, heading up the conglomerate's industrial big data efforts. That experience should serve him well at Uptake, which builds predictive analytics software for operators in heavy industry. [Press release]
DialogTech just appointed former COO Doug Kofoid as its new chief executive officer. Kofoid, who has held leadership roles at Publicis Groupe and Google/DoubleClick, was hand-picked by founder and former CEO Irv Shapiro for the role last year. Shapiro will remain involved with the company as executive chairman. [Press release]
Vibes, whose mobile marketing platform is used by companies like Chipotle, Home Depot and Redbox, has hired Brian Garofola as its new chief technology officer. As CTO, Garofola, who has 15 years of tech leadership experience, will oversee continued development of the startup's core marketing solution and work on new technologies supporting push notifications, messaging and mobile wallets. [Press release]
Kelly Dean is the new VP of people at Jellyvision. Prior to joining the company, whose software uses humor and behavioral science to guide employees through life decisions, Dean held HR leadership roles at Apple and Crate and Barrel. By all accounts, things are going well so far: the company recently issued a press release saying it considers changing its name to Kellyvision. Whether that initiative will clear legal remains dubious, however. [Press release]
Vivid Seats brought on Christopher Libertelli as senior VP of business and legal affairs. Libertelli, who previously built Netflix's Global Public Policy department and served in a similar role at Skype before that, will lead Vivid Seats' lobbying efforts in the United States and Canada. [Press release]
Steve Tulk joined closerlook to bolster its technological innovation efforts as chief technology officer. Prior to joining the pharma-focused digital agency, Tulk held technology leadership roles at the software firm Kaptivating Technology, Swiss pharma company Siegfried and Hurley. (Yes, the surf apparel brand.) [Press release]
Revzi, which makes analytics software that helps restaurant owners streamline their operations and marketing efforts, has hired Fooda co-founder Shane Jones as director of strategic partnerships. Jones will help the company build relationships with local establishments across the country as Revzi turns its eyes toward national expansion plans. [Press release]
Diana Smith joined Silent IT as its new VP of sales. Smith's resume includes stints at IBM, Novo Group, Brilliant and Volt Workforce Solutions. And the team she's joining is growing rapidly: with 40 consultants today, the company is on track to double its headcount in 2018. [Press release]
Rightpoint announced — wait for it — five big leadership hires at the beginning of this month, three of whom will be based in the agency's office in the City of the Broad Shoulders. [Press release]
Stacey Doyle, a 26-year veteran of the advertising, user experience and content strategy sphere, is joining the team as content director. Her job will be to scale the agency's content creation operation and work with clients to improve their digital content strategies.
Antonio Garcia, who helped launch Northern Trust innovation shop Northern Lab, is the firm's new group experience director. Garcia will coordinate Rightpoint's cross-disciplinary UX, research and design practices. On top of his day job, Garcia serves as VP of diversity and inclusion at AIGA Chicago.
Rey Nungaray is another freshly minted Rightpoint group experience director. Nungaray comes to the agency by way of Critical Mass New York, where he headed up creative for the company's Citibank account.